Engine Decarbonisation Service
Deposits are a natural by-product of combustion and, without preventative maintenance, accumulate over time. Decarbonisation or engine carbon cleaning refers to the process of removing carbon deposits.
In partnership, we utilise BG Products who develop and manufacture their own high quality chemistry and delivery systems to do this, safely and effectively. This method is so much better than using Teraclean or a standalone DPF clean service. Our decarbonisation service cleans the entire engine to rejuvenate and bring it back to almost as good as new.
Find out more below on how this works or give us a call on 01243 20 10 11 for more details.
Ben Collins (Former Stig) tests the service
Fuel Saving Service
You may have seen adverts from the big fuel companies talking about the additives added to their premium fuels that tackle deposits. BG recommend the more dedicated, dual approach – one product for the top half of the engine, the fuel system and one for the bottom half, the oil system.
The Guaranteed BG Fuel Saving Service comprises one product to treat the fuel system and a second to revitalise the vehicle's oil system:
BG 245® Fuel System Cleaner (or BG 44K® for Petrol) goes in the tank to clean the fuel system. It's vitally effective at cleaning carbon-covered fuel injectors
BG EPR® Engine Performance Restoration® flush softens and dissolves hard-to-remove deposits from piston rings, restoring peak compression, ensuring maximum power and efficiency.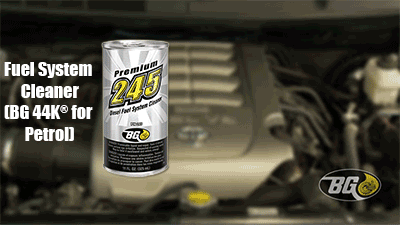 If we supply a BG Fuel System Cleaner and BG EPR® Compression Restoration Flush and you do not notice any improvement in your vehicle's performance or economy we'll give you a full refund – Guaranteed! 
(Money-back guarantee subject to vehicle been driven at least 500 miles and claim made within 3 months of purchase)
Improve the efficiency of your engine
Ben Collins tested the BG Fuel Saving Service on his own Land Rover which he felt was running OK. Since using BG he reports it's so much smoother – like taking the clock back to when it was new! The dyno results before and after visually prove the improvement. The curve demonstrates much more consistent torque (available power) throughout the rev range, with an impressive max gain of 7ft/lbs! Watch the video for more information. Watch Ben's video below;
Powerflow Deep Clean
Fuel Injection cleaning connects to the engine fuel lines to input the heat-activated chemistry around the entire fuel system, providing complete "on engine" cleaning of the air throttle body assembly, injectors, piston and combustion chamber. This dedicated treatment takes approximately 1 hour 20 mins.

Following the BG Powerflow Service, Ben reported the difference was very noticeable. Acceleration was much more immediate and more power was available throughout the rev range. This was backed up by the subsequent dyno readings – Horsepower was 22% higher at 2000 rpm, now up to 87 bhp.

REQUEST A QUOTE NOW